Submitted by kmcochran on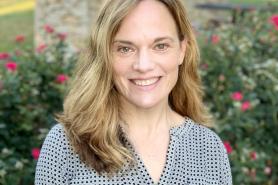 We are pleased to welcome Dr. Kristen Sullivan to the PQCNC Core Team as a Clinical Initiative Manager! She brings an interdisciplinary background and patient-centered approach to promoting maternal and perinatal health outcomes and equity through collaborative partnerships, and implementing and evaluating evidence-based interventions.
Kristen joins us after serving the Center for Bioethics at UNC Chapel Hill for the past six years. She was a Research Scientist and Project Director. In this position she led research and scholarly activities for NIH funded research projects and developed evidence-based guidance for preventing and treating HIV and co-infections in pregnant women. In her prior work she has journeyed into a variety of healthcare areas which are vital to PQCNC efforts. Previously she was a Research Scholar at the Center for Health Policy and Inequalities Research at the Duke Global Health Institute at Duke University. In that role she provided technical support to multiple sites developing and implementing systems level interventions using a quality improvement, learning collaborative model. Kristen's degrees include her doctorate in Health Behavior and Health Education, but also an MBA and an undergraduate degree with a minor in anthropology.
We are certain Kristen's unique background and skills will lead us all to identify new opportunities to advance perinatal care in North Carolina and further advance PQCNC in its mission to make North Carolina the best place to give birth and be born.