Submitted by kmcochran on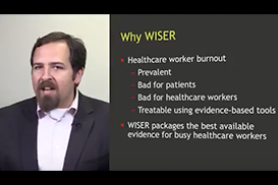 Interested in learning about Resilience tools?
Enroll in the W.I.S.E.R Study ("Web-based Implementation of the Science for Enhancing Resilience")
Who: Healthcare workers 18 and older are eligible
What: 
• WISER is packages evidence-based resilience tools for busy healthcare workers. It is an interactive, text-message based intervention that lasts 2 months.
• Participants engage in 6 different tools. Between 2-10 links are sent depending on the tool, for a total of 28 texts. Each text takes approximately 1-7 minutes.
Why: 
• To potentially enhance your own well-being, and the well-being of your co-workers and patients, to earn continuing education credits, and to participate in research which may affect healthcare workers across the country. 
• Participants are eligible to receive 10 hours of CME / ANCC credit (nursing): cat 1 AMA
Watch the video and enroll here - bit.ly/3wiser