Submitted by kmcochran on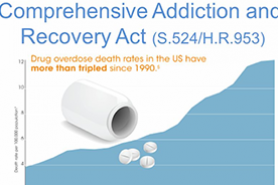 Dr. Kelly Kimple, the NC Acting State Health Director, is inviting you to meet on May 31st from 12:30-1:30 pm, by webinar, to outline the proposed role of hospitals in supporting North Carolina's implementation of recent federal Child Abuse Prevention and Treatment Act (CAPTA) amendment under the Comprehensive Addiction and Recovery Act (CARA) legislation. 
A NC Plan of Safe Care Interagency Collaborative (POSCIC) has been working on the requirements of states to respond to the most recent federal legislation. Multiple agencies and entities have roles in meeting the needs of impacted infants and their families. Hospitals have a unique role. Specifically, currently health care providers who identify the occurrence of a substance exposed infant who meets the new North Carolina definitions of 'Affected by substance abuse, withdrawal or FASD', are required to notify child welfare services, though this should not be construed as a requirement of report of child maltreatment. 
All such infants and their families are now also required to have a Plan of Safe Care developed, regardless of child welfare involvement. We believe that most hospitals who deliver infants who have been substance exposed, already have standards of discharge planning specific to the infants' circumstances. The Plan of Safe Care and corresponding screening tool that informs the Plan, would align with discharge planning and we believe provides increased clarity of how to respond to the non-medical needs of these infants and families.
We hope you can join on May 31st to learn about the hospital's potential role in implementing practices that will improve outcomes for these infants and families and to provide feedback on how to best implement and incorporate it in established clinical flow. 
Please share this with colleagues as appropriate.
Webinar information:
This is a Zoom webinar, please plan to join a few minutes early if you have not previously used Zoom.
https://uncsph.zoom.us/j/402503813
Or join by phone
iPhone one-tap (US Toll):  +16465588656,402503813# or +14086380968,402503813#
Telephone:
    Dial: +1 646 558 8656 (US Toll) or +1 408 638 0968 (US Toll)
    Meeting ID: 402 503 813