Submitted by kmcochran on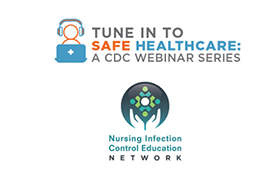 Nurses' engagement in antibiotic stewardship is critical to patient safety, register now for a free webinar with continuing education.  CDC and the American Nurses Association invite you to register now for a free webinar with continuing education. 
Webinar: Empowering Nurses to Protect Themselves and Their Patients: Nurses' Roles in Antibiotic Stewardship 
Date: Tuesday, December 5, 2017 
Time: Noon ET
Registration: Register (at no cost) and view the detailed agenda here: 
Topics: 
Key reasons for nurse leaders to be engaged with antibiotic stewardship
Nurses, antibiotic resistance, and the expanded role in hospital antibiotic stewardship programs (ASPs) and activities
Clinical practice guidelines in the clinical educational setting
The importance of antibiotic stewardship and the roles of the faculty and students
Featured Speakers:
Barbara A. S. Gilbert, MSN, RN, CIC-Academy of Medical-Surgical Nurses, Infection Control Nurse
Chris Shakula, BSN, MSN-National Association of Clinical Nurse Specialists (NACNS), Infection Preventionist
Trisha Mims, MSN, MBA, HCM-National Student Nurses Association (NSNA), Director of Programs and Education
Audio: Please note the audio for this webinar will come through your computer speakers. During the webinar, please ensure that your speakers are turned on and the volume is up. 
This webinar is hosted the Nursing Infection Control Education (NICE) Network, a collaboration between CDC, the American Nurses Association, and specialty nursing organizations.