Submitted by kmcochran on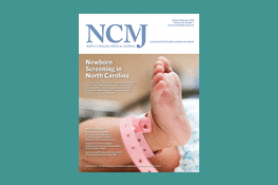 RTI International, a nonprofit research institute, and the North Carolina State Laboratory of Public Health (NCSLPH) published North Carolina Medical Journal's special January-February issue focused on newborn screening. The issue is devoted to the challenges that newborn screening will face and the opportunities newborn screening presents to advance the health of newborns. 
The issue includes an article co-authored by RTI researchers Dr. Don Bailey, PhD, and Dr. Lisa Gehtland, MD, about the Early Check study. Early Check offers voluntary newborn screening for an extra set of disorders for every baby born in North Carolina. Newborn screening programs rely on understanding the benefits and harms of screening, but the rarity of conditions hampers generation of high-quality data. The study, a partnership between North Carolina nonprofit, academic, and state organizations, is filling this gap by screening for conditions not included in standard newborn screening.