Submitted by kmcochran on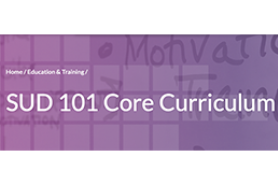 PCSS clinical experts David Fiellin, MD; Michelle Lofwall, MD; and Larissa Mooney, MD, who have extensive training and knowledge in addictions, led a team of healthcare professionals in the development of a substance use disorder 101 core curriculum for healthcare providers. The 22 modules provide an overview of evidence-based practices in the prevention, identification, and treatment of substance use disorders and co-occurring mental disorders. Healthcare professionals who complete this curriculum should see an increase in their competence and confidence as they treat patients who are diagnosed with a substance use disorder.
While healthcare professionals are often on the front lines of treating substance use disorders most have limited (if any) training in this area. The curriculum was created to provide a foundation of the current research, resources, and support needed to increase providers' competence and confidence in the care of their patients across the continuum of care.
Each module is available at no cost and is designated for interprofessional continuing education credits. More information here