Submitted by kmcochran on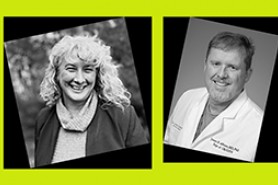 PQCNC is proud to announce new PQCNC core team leadership for maternal projects. Over the years we have realized the commitment this position requires, as well as the opportunities that are provided to improve care when there is a powerful physician and nurse team leading the charge to change culture. As we continually seek to refine our collaborative model, we are pleased to welcome Melinda Ramage and Jim deVente to the PQCNC Core Team as our new co-leaders for Maternal Initiatives.  
Melinda Ramage is a Family Nurse Practitioner in Asheville with MAHEC and is the Medical Director for Project Cara…Care that Advocates for Respect, Resilience and Recovery for All (CARA). Project Cara is one of the outstanding perinatal substance use disorder clinics serving moms and their infants in North Carolina. Mel has previously served as a perinatal nurse practitioner in the MAHEC Maternal-Fetal Medicine Clinic. In addition, she has served as a member of the NC IOM Perinatal Task Force and sits on the NC Medicaid and DHHS Drug Utilization Review Committee. Mel has been one of the primary leaders in the development and execution of PQCNC's clOUDi initiative. She has been inspirational in efforts to recruit organizational support, identify patients and families to guides us in the conduct of clOUDi and she has drawn on her broad perinatal nursing expereince to direct PQCNC in identifying opportunities we have to shape future efforts to reduce maternal and infant morbidity and mortality. 
Jim deVente is well known to many PQCNC members and has been a leader for numerous past PQCNC initiatives. Jim is a general obstetrician and Medical Director for Labor and Delivery at Vidant Medical Center in Greenville, North Carolina. He is a physician who thrives in caring for his patients and families at Vidant Medical Center but who has also dedicated himself to improving maternity care for mothers everywhere in North Carolina. Dr. deVente was previously a leader of maternal projects for PQCNC and led our Support for Intended Vaginal Birth (SIVB) initiative. Jim has led the Vidant Health System in executing perinatal care initiatives but is the current Physician Champion for the Perinatal/Neonatal Outreach Coordinator Program in Region V. He was prior to this the Physician Leader for the CCNC Pregnancy Medical Home in Access East. Jim has also served in numerous other leadership positions at Vidant Medical Center, the Brody School of Medicine, the Vidant Health System and on state and national maternal care committees.  Jim has made too numerous to count visits to hospitals across the state of North Carolina to, in his inimitable way, carry the torch for improving the care we provide mothers and their babies across the state. We are privileged that Jim is ale to rejoin the PQCNC team.
We are so excited that Melinda and Jim will be joining the PQCNC Core Team. Since inception, PQCNC has been fortunate to be supported by outstanding Maternal Project Leaders.  The tradition continues. We all look forward to continuing to work with you all to make North Carolina the best place to give birth and be born!